BoP3
It's simple if you know how to do it
BoP3 (or the Burden of Paradise) were formed in 2006. Bass player Dave Bowie forced everybody to do whatever they wanted, over and over again, until they all agreed it was a good idea. And they've been on the knife-edge of creative marvellousness ever since.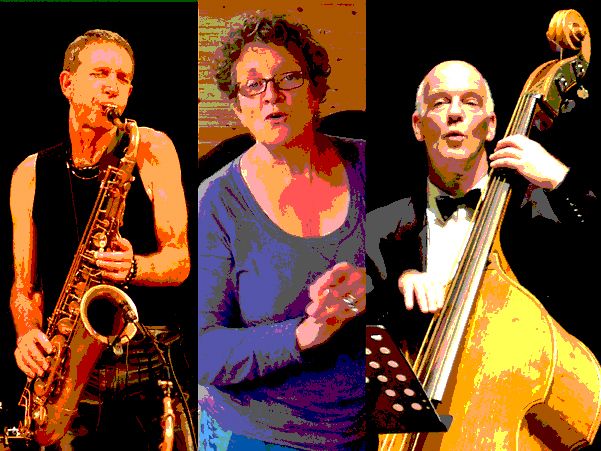 Snake and Dave met as little flute players in 1978, and have been best mates ever since. Most of their growing up continues to be done together, sharing highs, lows and occasionally girlfriends. Dave defined pop obscurity with his band Really, managed by World Music guru Andy Kershaw. Snake and Dave still enjoy credit as Britain's foremost Northern Soul band, Snake Davis And The Suspicions (once the Alligator Shoes). Snake and Helen explored the seamier side of European union in the 80s on a tour bus with Joe Cocker.
What exactly is the BOP3's secret? A stylish blend of precisely 47% blues, 35% folk and 18% jazz.
There's a fabulous you tube video of the three performing at Shrewsbury Festival in 2019. Unfortunatley due to licensing we can't pop a direct link here for you to click on but if you pop this in your search bar you should find it straight away :- Burden Of Paradise Three at Shrewsbury Folk Festival 2019 - YouTube
The band
Breathtaking skill, warm co-operation and witty anarchic banter. BoP3 invites its audience into a world of tenderness, virtuosity and human frailty.
The music
No drums. Just voice, saxophone and a pulsing engine room of double bass (and a bit of ukulele). BoP's unique interpretations of evocative songs from Dylan to Dowland are spell-binding. "BoP3 is a bit like jazz, but better"
The name
The Burden of Paradise - We are all in paradise, if only we knew it. The burden is to accept it. 
Helen Watson. The gypsy. With a heart of gold and a voice of crystal, Helen is nevertheless a geography teacher on a field trip for jazz divas. Her quirky career path has put her in the company of Little Feat, Emmylou Harris, Linda Ronstadt and producer Glyn Johns.
Snake Davis. 007. He's handsome and he's lethal. Snake was the battle cry of the Sydney Olympics, the soul of M People's Search For The Hero and the heart of Take That's A Million Love Songs. Probably the most distinctive sax sound to emerge from the UK in the past 50 years.
Dave Bowie Jr. The obscure. More intelligent than a bass player needs to be, Dave is clever but remarkably incomprehensible. See if you can figure out what he's on about. He counts the Ukulele Orchestra Of Great Britain, Martha & The Vandellas and Steve Tilston among his conquests.
The New BoP3 website can be accessed here BoP3
Original member Mark Creswell left the band in 2017 to dig more holes (stop digging Mark). You can still catch him occasionally performing with Snake on other gigs.
Wonderful community event, this was a sell-out last year
The 4 piece band returning to The Crypt in Middlesbrough Town Hall. More details coming soon - save the date. Tel: 01642 729 729 or boxoffice@middlesbrough.gov.uk
A Gin & Tapas night with Snake and Chris Bannister adding a set of their amazing music. Tickets from £20 Tel: 01969 624668
Snake Davis Band Tour (4 piece)